2017 Ford Mustang Indianapolis Indiana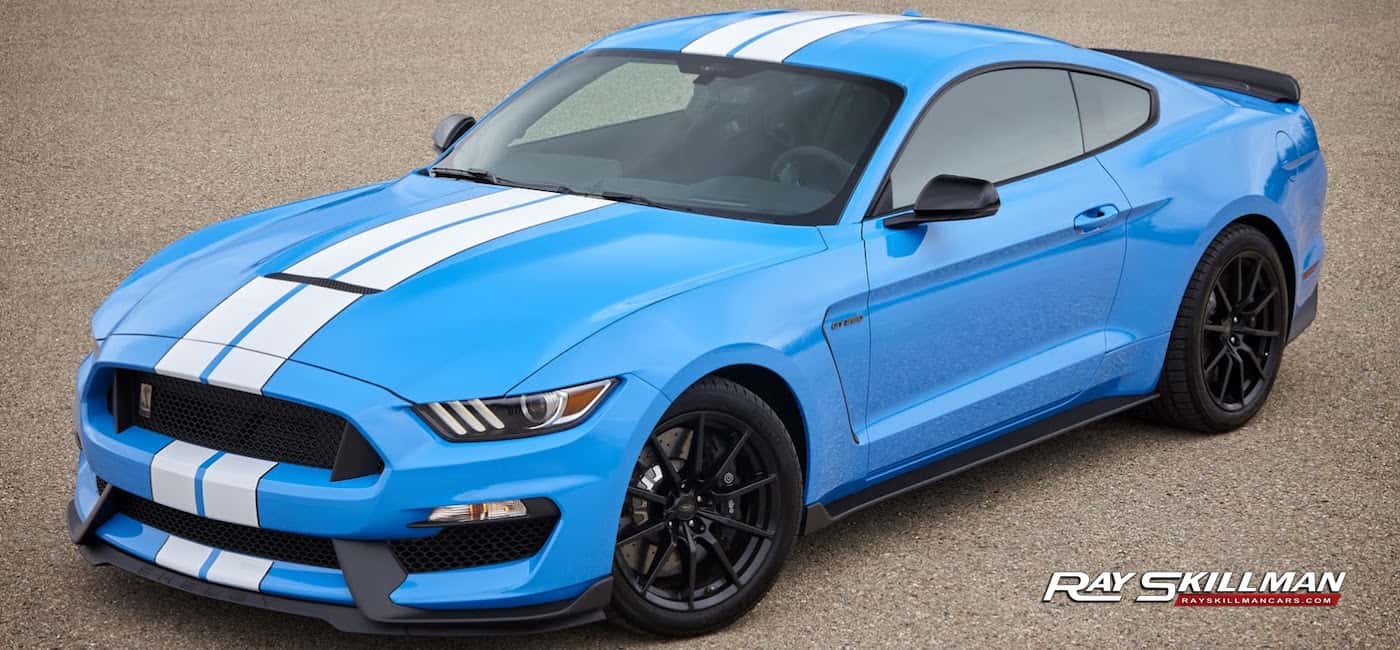 The Legend
Now celebrating 50 years of excitement, the iconic Ford Mustang is ready to thrill you like never before. Get behind the wheel with the Ray Skillman Auto Group.
When iconic American muscle comes up in conversation, no car gets talked about more than the Ford Mustang. Ford has dynamically crafted the new 2017 Mustang with that same powerful level of performance in its new offering. At the Ray Skillman Auto Group, we have the same love of power and performance and can't wait to take you out on the test drive that will change your life forever for the better.
How does one brand keep evolving, making more powerful sports cars with each generation? Ford has come up with the answer and for 2017 it means having four engine choices and one powerful soul of power. Each engine delivers at least 300 horsepower and an exhilarating drive each time you sit behind the wheel, guaranteed. Topping the charts in the 5.2L V8 Shelby GT350 you get 526 standard horses and 429 lb.-ft. of torque. Power itself does not deliver an exceptional drive. Systems under the hood, and with the chassis and suspension make for the most dynamic performance you can imagine. Then Ford teamed front and rear Brembo calipers with cross-drilled, two-piece brake rotors. The huge 394mm rotors up front and 380mm rotors in the back complete this tight, hardworking system that gives GT350 its well-earned track cred and stopping power.

The Launch control system integrates the braking, traction control, and powertrain control systems to help smooth out your starts, no matter your driving conditions. Then the class-exclusive available Electronic Line-lock system keeps the front brakes locked while releasing the rear brakes to let you accelerate and warm up the rear tires to enhance your grip off the line. When your tires are warmed you can pull up to the start line, engage your Launch control and take off as soon as the light goes green, leaving the competition in the dust. If sport-style driving is not what you crave today, then use the customizable driving preferences to let you dial in your handling dynamics and optimize your control according to your selection. Simply dial in your desired driving mode using a switch on the center stack from Normal, Snow/Wet, Sport or Track. Without the classic Mustang shape delivering balance through aerodynamics, you get a far better balance in downforce and minimizing drag.
With so many options and specifications, it might be difficult to choose the new 2017 Ford Mustang that suits your wants. Well, that is not the case with our factory trained product specialists at the Ray Skillman Auto Group. We have a great selection and representatives that guide you through, listening to your wants and needs to help you choose the model that is ideal. With our two Ford showrooms, you are sure to love our selection and financing options. We have useful tools online to help you research the new Mustang and the available specials. Give us a call at our conveniently located showrooms near Indianapolis Indiana. We will schedule your test drive and make you feel right at home. Then come into your conveniently located showroom and have the time of your life experiencing the new Mustang.

New Mustang Indianapolis
Ray Skillman has the perfect Mustang model to put you in the fast lane. Find yours now, along with Indy's best value.

Pre-Owned Mustang Indianapolis
With muscle as legendary as the Mustang, it's easy to maintain a fantastic selection of pre-owned vehicles.

Incentives and Rebates
The Ray Skillman discount is always above and beyond what Ford offers on new vehicles. Find out for yourself today.
Experience the Skillman Difference
Buying a vehicle is a special experience. We understand that this isn't something our customers do every day, which is why we treat every interaction with the respect that it deserves. Ray Skillman has served the Indianapolis market for decades because we believe that the community and its people supersede any expectations set by a corporation. This is your community. This is our community. When you are shopping for a new or used Mustang, you expect the experience to match the promise, which is why we are open and transparent every step of the way. Below, you will find more information about the new Mustang. We hope that you'll contact us and allow us the opportunity to show you why buying from the Ray Skillman Auto Group is absolutely the best shopping decision you can make.
Ray Skillman Ford Mustang
There's more to a vehicle demonstration than picking out colors and taking a test drive. With the Ray Skillman Auto Group, we want you to know everything that's important to you in your next new car. The Ford Mustang is uniquely positioned in the Indy market to put you in the fast lane. The Mustang has the proper mixture of exciting performance and incredible style that's appealing to Indianapolis. Our team is here to make sure you're aware of every feature, tip, and maintenance best practice because we take pride in delivering the ultimate shopping experience for our customers. Watch this video to get a taste for how we assist our customers in making the best selection for them.
Attention to detail is important. You won't miss a thing when you shop with the Ray Skillman Auto Group.
---
We know you have many options when it comes to car dealers in the Indy area. Our hope is that you will give us the first opportunity to earn your business because of the tremendous experience, great pricing, diverse Mustang selection, and our commitment to making your buying experience the most positive one you've ever had when shopping for a vehicle. We stand behind the ideal of delivering the type of respectful engagement that the people of Indianapolis deserve. If you give us the first opportunity, you'll see why our customers come back time and time again.
---
WHY RAY SKILLMAN AUTO GROUP?
Some dealerships take pride in their sales numbers. Others point to their P&L statements to determine their success. With the Ray Skillman Auto Group, the most important indicator of whether or not we're successfully achieving our goals is when YOU are overwhelmed by our outstanding customer experience. It goes beyond satisfaction. We want you to be ecstatic with the way you were treated and impressed with how easy it was to get the best Ford Mustang deal in Indiana. Your opinion is the one that matters with the Ray Skillman Auto Group. It's what drives our success.
---
Customers Come First
See What Our Customers Are Saying
---
---
Your Mustang Shopping Experience
We hope we've answered most of your questions about why you should consider the Ray Skillman Auto Group as your first choice when shopping for a new or pre-owned Mustang. If you are ready to learn more, please contact us through your preferred method of communication and ask us anything you'd like to know. If you're ready to schedule your test drive, please use the form below. With the Ray Skillman Auto Group, you control your shopping experience. We're here to help facilitate and to be your personal Mustang experts.