2017 Buick Envision Indianapolis IN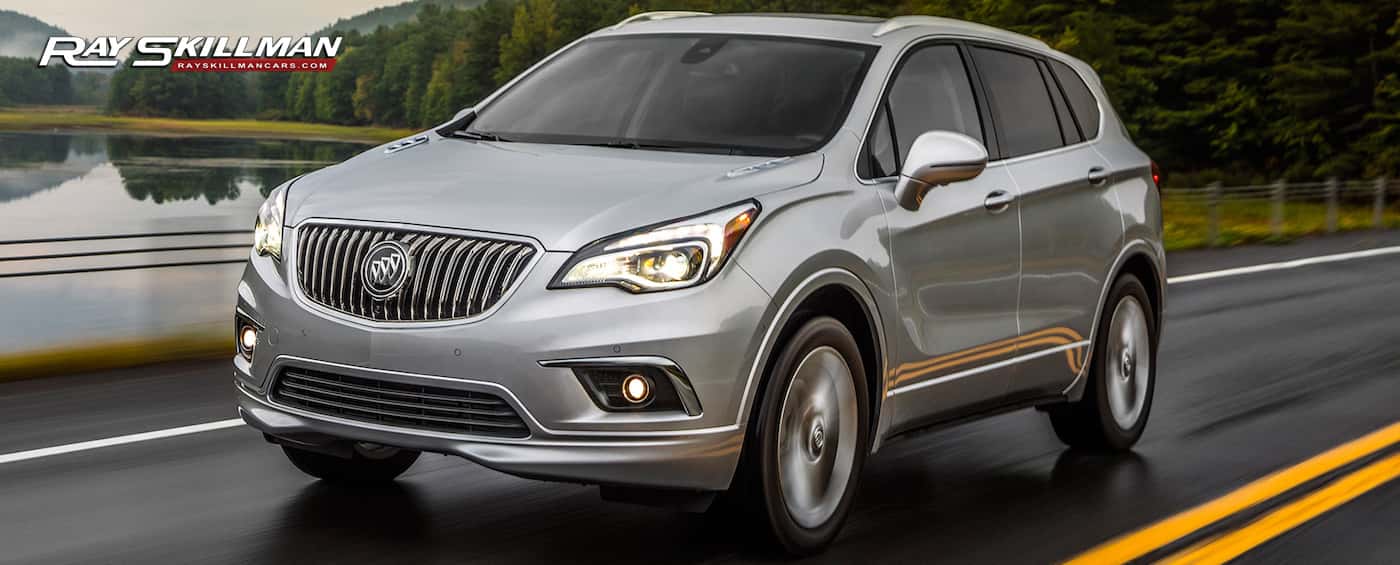 Find Joy
The all-new 2017 Buick Envision is an absolute joy to experience both inside and out. Find your joy in the new Envision from the Ray Skillman Auto Group.
Artistry in motion, that is one way that many might describe the new 2017 Buick Envision. Meticulous crafting inside and out with premium features and materials ensure not only an embodiment of your personal style but also grants you the comfort and convenience you crave. At the Ray Skillman Auto Group, we love the new Envision and the refinements provided to our guest throughout the Buick lineup. Working with our team of knowledgeable product specialists ensures that you will get the best selection and care to determine the new Envision that fits your every need.
The beautifully modern interior lines and features are sure to invoke conversation by all that are lucky enough to enjoy it. The spacious and welcoming design was designed to be as versatile as your life demands. The easy to transform and transition cargo and passenger seating areas fold flat with the pull of a lever giving you endless possibilities for carrying larger items and fitting into your busy life. While traveling your day-to-day or on your next adventure, you will appreciate the sound absorption Quiet-tuning technologies in your Envision that keep outside noise where it belongs and lets you enjoy the conversations or music going on inside. And premium soft-touch materials elevate your level of refinement to the highest degree. Calming ice-blue ambient lighting, available French Stitched, leather-appointed seats, an available heated steering wheel, and copious amounts of rear legroom let you and your passengers enjoy every drive more than the last. And your passengers will love you all the more with available heated rear seats and tri-zone climate control. The intuitive center stack gives you modern styling and puts what you need, where you need it. The center console's innovative dual-winged doors let you and your front passenger easily access console storage without disturbing each other.

At the Ray Skillman Auto Group, we work tirelessly to help accommodate your needs in beauty, style, function and convenience, and of course, budget. Our competitive pricing and hassle-free guarantees ensure your pleasant experiences with every visit. So start your research online with our user-friendly website. Here you can browse our available selections, check on specials and incentives and start your finance application all from the comfort of home. Give us a call at (317) 300-2001 and we will gladly answer any questions you have and schedule your visit to our conveniently located showroom near Indianapolis for a test drive. When you arrive you will love the care and commitment to your satisfaction you will have every time you step in the doors, for sales or servicing of your new Buick Envision.
With so many conveniences at your fingertips, you are sure to enjoy every moment you spend in your new Envision. At the Ray Skillman Auto Group, we look forward to helping you discover all that is yours in your Envision. By using our tools online, over the phone and at our convenient showroom, you will learn more about the new Envision and all the incredible benefits that are yours with the Ray Skillman Auto Group.
Use our research tools online for incentives and selection. Contact us through email or by phone. Then, come in and experience an exceptional level of service, unsurpassed by other dealerships in the area.

New Envision Indianapolis
Ray Skillman has many incredible Envision models IN STOCK. It's safe to say we have the perfect one for you. Find yours now, along with Indy's best value.

Pre-Owned Envision Indianapolis
With a lineup as desirable as Buick's, it's easy to maintain a fantastic selection of pre-owned vehicles. Find yours right here.
Incentives and Rebates
The Ray Skillman discount is always above and beyond what Buick offers on new vehicles. Find out for yourself today.
Experience the Skillman Difference
Buying a vehicle is a special experience. We understand that this isn't something our customers do every day, which is why we treat every interaction with the respect that it deserves. Ray Skillman has served the Indianapolis market for decades because we believe that the community and its people supersede any expectations set by a corporation. This is your community. This is our community. When you are shopping for a new or used Envision, you expect the experience to match the promise, which is why we are open and transparent every step of the way. Below, you will find more information about the new Envision. We hope that you'll contact us and allow us the opportunity to show you why buying from the Ray Skillman Auto Group is absolutely the best shopping decision you can make.
Ray Skillman Buick Envision
There's more to a vehicle demonstration than picking out colors and taking a test drive. With the Ray Skillman Auto Group, we want you to know everything that's important to you in your next new car. The Buick Envision is uniquely positioned in the Indianapolis market to put you in the fast lane of life. The Envision has the proper mixture of fun performance and incredible style that's appealing to Indianapolis. Our team is here to make sure you're aware of every feature, tip, and maintenance best practice because we take pride in delivering the ultimate shopping experience for our customers. Watch this video and get a taste for all your new Envision can do for you and yours.
Attention to detail is important. You won't miss a thing when you shop with the Ray Skillman Auto Group.
---
We know you have many options when it comes to car dealers in the Indy area. Our hope is that you will give us the first opportunity to earn your business because of the tremendous experience, great pricing, diverse selection, and our commitment to making your buying experience the most positive one you've ever had when shopping for a vehicle. We stand behind the ideal of delivering the type of respectful engagement that the people of Indy deserve. If you give us the first opportunity, you'll see why our customers come back time and time again.
---
WHY RAY SKILLMAN AUTO CENTER?
Some dealerships take pride in their sales numbers. Others point to their P&L statements to determine their success. With the Ray Skillman Auto Group, the most important indicator of whether or not we're successfully achieving our goals is when YOU are overwhelmed by our outstanding customer experience. It goes beyond satisfaction. We want you to be ecstatic with the way you were treated and impressed with how easy it was to get the best deal in Indiana. Your opinion is the one that matters with the Ray Skillman Auto Group. It's what drives our success.
---
Customers Come First
See What Our Customers Are Saying
---
---
Your Envision Shopping Experience
We hope we've answered most of your questions about why you should consider the Ray Skillman Auto Group as your first choice when shopping for a new or pre-owned Envision. If you are ready to learn more, please contact us through your preferred method of communication and ask us anything you'd like to know. If you're ready to schedule your test drive, please use the form below. With the Ray Skillman Auto Group, you control your shopping experience. We're here to help facilitate and to be your personal automotive experts.