Buick LaCrosse Plainfield IN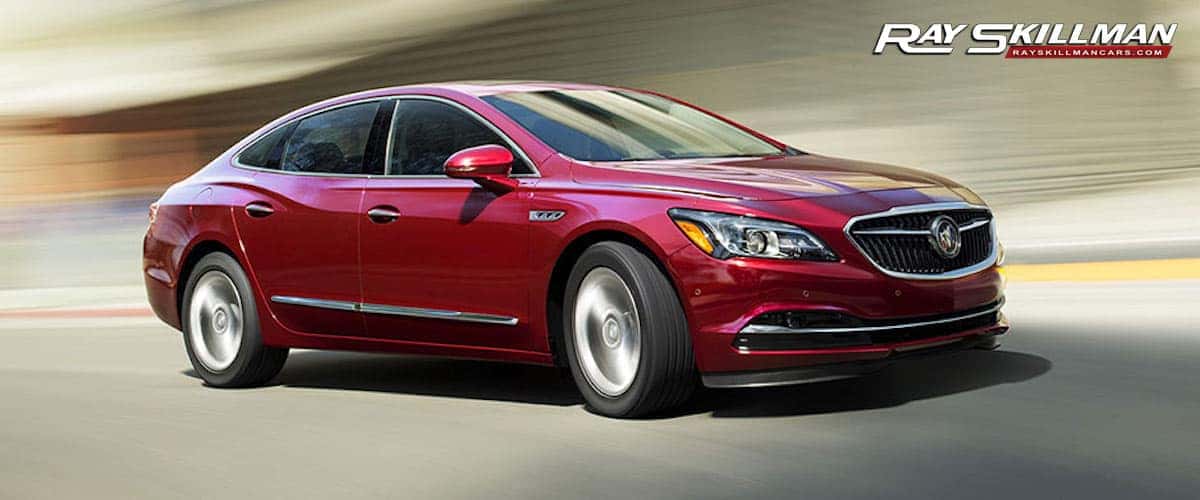 The Ray Skillman Auto Group
The New Buick LaCrosse: The Luxury Sedan You Desire
Step into a world of total comfort and luxury when you step into the Buick LaCrosse from the Ray Skillman Auto Group.
Buick's come back stronger and more modern than ever. If you're in need of an upgrade, come see our specialists at Ray Skillman Auto Group and let us help you with everything from trading in your current car to leasing or owning your new favorite, the Buick LaCrosse. The LaCrosse is available in five trims, so you can choose which one speaks to you the most whether that's the base model, the Lacrosse or the top of the tier, the Avenir. Take your pick from the 10 available modern, neutral colors that will elevate your image just by sitting behind the wheel.
Sculpted With Modernity
The LaCrosse shines with its distinctive, elegant design with its contemporary style and iconic Buick emblem, which will have onlookers doing a double take. The Standard High-Intensity Discharge (HID) xenon headlamps with signature LED daytime running lamps will light up your night drives.
The available tilt-sliding power panoramic moonroof gives you and your passengers a view of the sky that makes you feel connected to the world outside. And when the sun beats down too harsh, you can activate the power rear sunshade, so your passengers can stay cool and comfortable. Test out the moonroof for yourself and take a cruise through Plainfield. You'll feel like you're driving in the lap of luxury because you will be.
Look Good, Feel Safe
The modern touches continue throughout the safety technology in the LaCrosse. As the driver, you can equip your sedan with the Safety Alert Seat. This feature sends pulses to the direction of an approaching hazard, either on your left, right or both sides of the bottom of your driver's seat. These helpful reminders aren't in your face but are powerful enough for you to take notice and act cautiously.
Another way the LaCrosse looks out for you is through the available Side Blind Zone Alert and the available Lane Change Alert. Your side mirrors will illuminate a car icon to let you know if it's safe for you to switch lanes. When you've reached your destination and need to squeeze into a tight parking spot, let the available Automatic Parking Assist take over the steering wheel, while you shift, brake and accelerate as necessary.
For extra reassurance and added precaution, you can sign up for OnStar. When you join the OnStar family, you'll feel confident driving to new places without the feel of being stranded or alone. You can rely on features including Automatic Crash Response, Emergency Services, and Roadside Assistance.
The Buick LaCrosse & The Ray Skillman Auto Group – Shattering Expectations
The Buick LaCrosse will exceed your full-size sedan expectations. From the refined, modern exterior to the technologically advanced safety features, you won't want to leave our showroom without trading in your old car. So, go ahead, give Ray Skillman Auto Group a call and let's make your car dreams a reality.

New LaCrosse Plainfield
Ray Skillman has lots of new LaCrosse models IN STOCK. It's safe to say we have the perfect one for you. Find yours now, along with Plainfield's best value.

Pre-Owned LaCrosse Plainfield
With a vehicle as desirable as the LaCrosse, it's easy to maintain a fantastic selection of pre-owned vehicles.
Incentives and Rebates
The Ray Skillman discount is always above and beyond what Buick offers on new vehicles. Find out for yourself today.
Experience the Skillman Difference
Buying a vehicle is a special experience. We understand that this isn't something our customers do every day, which is why we treat every interaction with the respect that it deserves. Ray Skillman has served the Plainfield market for decades because we believe that the community and its people supersede any expectations set by a corporation. This is your community. This is our community. When you are shopping for a new or used LaCrosse, you expect the experience to match the promise, which is why we are open and transparent every step of the way. Below, you will find more information about the new LaCrosse. We hope that you'll contact us and allow us the opportunity to show you why buying from the Ray Skillman Auto Group is absolutely the best shopping decision you can make.
Ray Skillman Buick LaCrosse
There's more to a vehicle demonstration than picking out colors and taking a test drive. With the Ray Skillman Auto Group, we want you to know everything that's important to you in your next new car. The Buick LaCrosse is uniquely positioned in the Plainfield market to put you in the fast lane of life. The LaCrosse has the proper mixture of fun performance and incredible style that's appealing to Plainfield. Our team is here to make sure you're aware of every feature, tip, and maintenance best practice because we take pride in delivering the ultimate shopping experience for our customers. Watch this video and get a taste for how we assist our customers in making the best selection for them.
Attention to detail is important. You won't miss a thing when you shop with the Ray Skillman Auto Group.
---
We know you have many options when it comes to car dealers in the Plainfield area. Our hope is that you will give us the first opportunity to earn your business because of the tremendous experience, great pricing, diverse Buick selection, and our commitment to making your buying experience the most positive one you've ever had when shopping for a vehicle. We stand behind the ideal of delivering the type of respectful engagement that the people of Plainfield deserve. If you give us the first opportunity, you'll see why our customers come back time and time again.
---
WHY RAY SKILLMAN AUTO GROUP?
Some dealerships take pride in their sales numbers. Others point to their P&L statements to determine their success. With the Ray Skillman Auto Group, the most important indicator of whether or not we're successfully achieving our goals is when YOU are overwhelmed by our outstanding customer experience. It goes beyond satisfaction. We want you to be ecstatic with the way you were treated and impressed with how easy it was to get the best deal in Indiana. Your opinion is the one that matters with the Ray Skillman Auto Group. It's what drives our success.
---
Customers Come First
See What Our Customers Are Saying
---
---
Your LaCrosse Shopping Experience
We hope we've answered most of your questions about why you should consider the Ray Skillman Auto Group as your first choice when shopping for a new or pre-owned Buick. If you are ready to learn more, please contact us through your preferred method of communication and ask us anything you'd like to know. If you're ready to schedule your test drive, please use the form below. With the Ray Skillman Auto Group, you control your shopping experience. We're here to help facilitate and to be your personal automotive experts.