Chevrolet Silverado 1500 Plainfield IN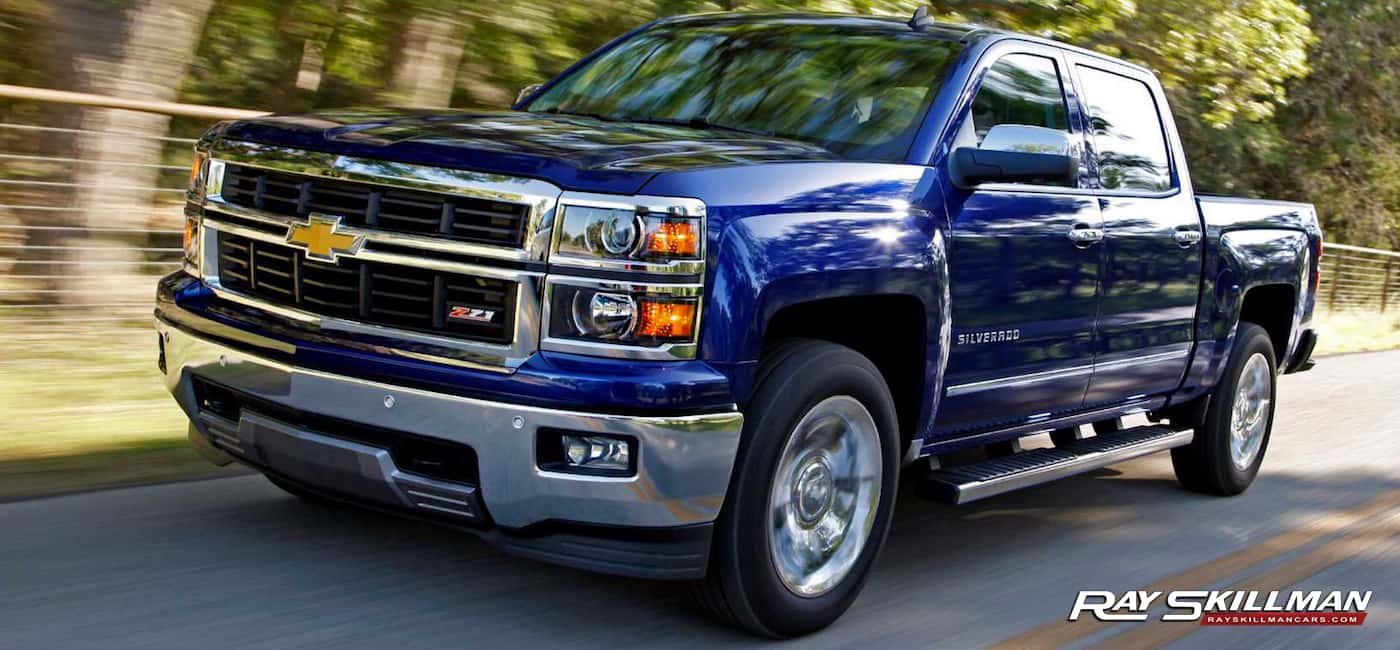 Pickup Perfection
The all-new Chevrolet Silverado 1500 is as versatile and tough as you are. Pick up the perfect pickup from the pros at Ray Skillman.
Shopping for a new truck doesn't mean searching out pretty little details and dainty features, it is more about durability and dependability. It means looking for a truck that can keep up with the demands of your busy day. You want a work partner, not a prissy showpiece. No other truck is built to match your demands than the new 2017 Chevrolet Silverado 1500. It has a long and awarded history for dependability as the longest-lasting full-size pickup on the road, and that is what you need. And no other Plainfield IN area dealer is more equipped to accomplish all your goals than our team with the Ray Skillman Auto Group. Here we work harder to match you to the ideal truck in our wealth of inventory. We do all this without all the hassle and haggling that our competitors seem to love so much because you know what you need, and what you are willing to pay, and don't have the time to do the back and forth, do you?
Chevrolet didn't build their legacy as the most dependable, and longest lasting force of full-sized pickups by sitting around. They worked hard, with engineers and designers to push strength, capability and advanced technology to ensure that your Silverado 1500 will last the test of time. The body's muscular front end and design lines are an indication of its strength and capability, making it unmistakable as the road warrior and leader of the pack. Chevrolet matched your needs to three engine systems so that every driving style and demand is met. Choose from the 6.2L V8, a 5.3L V8 or a 4.2L V6, that use the legendary EcoTec3 system for proven fuel-savings technology. They have a host of features like Active Fuel Management, Direct Injection and Continuously Variable Valve Timing that work together for improved efficiency and powerful capability. Your Silverado 1500 has found the perfect balance of fuel economy, power, and acceleration.
Matching the under-hood efficiency, dependability and power, is a host of tools that make your drive convenient. Your Silverado will prove to be the best man on your crew through all the advances made to driving convenience. Steering wheel controls let you work your phone systems, control the available MyLink system and display and change your Driver Information Center settings, as well as set your cruise control and working your many safety systems. Having power systems to keep your technology running as hard as you do is important so your Silverado was fitted with USB ports and an available 110V power outlet to provide you with options for your devices. Your Silverado will prove time and time again that having the right equipment to complete any task makes your day so much easier. For that, you have trailering and high-strength components that ensure you are the one everybody calls when they are in a bind. Get class-leading towing up to 12,500lbs and all the upgrades systems to ensure you are in control of your environment mean you are the trail-blazer. Safety features like Hill Start Assist and StabiliTrack with Trailer Sway Control, and so much more, give you all the security you need to get the job done right.
At the Ray Skillman Auto Group, we look forward to showing you all the many ways that the 2017 Silverado can streamline your day and make your life so much easier. Through our host of online tools, over the phone at (317) 300-2006 and in our conveniently located showroom you will find all you need. We will listen to you, offer up so many options for matching your needs that you will leave knowing you made the right decision for your life. Our friendly team of product specialists and incredible selection ensure you are going to love the time you spend with us.
More luxury is yours as you take in the interior features. With noise reduction through enhanced cabin sound reduction, improved body stiffness, contoured mirrors for extra aerodynamics and sound-absorbing windows, each of the features comes together for a peaceful ride. The YES Essentials interior cloth repels stains keeping your Silverado 1500 looking more beautiful year after year. The available rear sunshade offers up a cooler cabin for you and your riders and protects everyone from sun glare. Then, the new Chevrolet Silverado 1500 features two available USB chargers, an available 12V outlet in the rear, two 12V ports and one USB standard in the front for your driving convenience. More driving aid technologies bring the conveniences of home on the road. Stay in control and totally connected with Chevrolet's UVO system and voice-recognition technology. Hands-free you have information delivered to you, just as you do with your smartphone, no matter how remotely you travel. With the help of Chevrolet's technology, you are safer with each mile also. A host of safety features is yours for the discovering with the help of the dedicated team at the Ray Skillman Auto Group.
With so many conveniences at your fingertips, you are sure to enjoy every moment you spend in your new Chevrolet Silverado 1500. At the Ray Skillman Auto Group, we look forward to helping you discover all that is yours in your Chevrolet. By using our tools online, over the phone and at our Chevrolet showroom, you will learn more about the new Silverado 1500 and all the incredible benefits that are yours with the Ray Skillman Auto Group.
Use our research tools online for incentives and selection. Contact us through email or by phone. Then, come in and experience an exceptional level of service, unsurpassed by other dealerships in the area.

New Silverado 1500 Plainfield
Ray Skillman has plenty of Silverado 1500 models IN STOCK. It's safe to say we have the perfect one for you. Find yours now, along with Indy's best value.

Pre-Owned Silverado 1500 Plainfield
With a vehicle as desirable as the Silverado 1500, it's easy to maintain a fantastic selection of pre-owned vehicles.

Incentives and Rebates
The Ray Skillman discount is always above and beyond what Chevrolet offers on new vehicles. Find out for yourself today.
Experience the Skillman Difference
Buying a vehicle is a special experience. We understand that this isn't something our customers do every day, which is why we treat every interaction with the respect that it deserves. Ray Skillman has served the Plainfield market for decades because we believe that the community and its people supersede any expectations set by a corporation. This is your community. This is our community. When you are shopping for a new or used Silverado 1500, you expect the experience to match the promise, which is why we are open and transparent every step of the way. Below, you will find more information about the new Silverado 1500. We hope that you'll contact us and allow us the opportunity to show you why buying from the Ray Skillman Auto Group is absolutely the best shopping decision you can make.
Ray Skillman Chevrolet Silverado 1500
There's more to a vehicle demonstration than picking out colors and taking a test drive. With the Ray Skillman Auto Group, we want you to know everything that's important to you in your next new car. The Chevrolet Silverado 1500 is uniquely positioned in the Plainfield market to put you in the fast lane of life. The Silverado 1500 has the proper mixture of fun performance and incredible style that's appealing to Plainfield. Our team is here to make sure you're aware of every feature, tip, and maintenance best practice because we take pride in delivering the ultimate shopping experience for our customers. Watch this video and get a taste for how we assist our customers in making the best selection for them.
Attention to detail is important. You won't miss a thing when you shop with the Ray Skillman Auto Group.
---
We know you have many options when it comes to car dealers in the Indy area. Our hope is that you will give us the first opportunity to earn your business because of the tremendous experience, great pricing, diverse Chevrolet selection, and our commitment to making your buying experience the most positive one you've ever had when shopping for a vehicle. We stand behind the ideal of delivering the type of respectful engagement that the people of Plainfield deserve. If you give us the first opportunity, you'll see why our customers come back time and time again.
---
WHY RAY SKILLMAN AUTO CENTER?
Some dealerships take pride in their sales numbers. Others point to their P&L statements to determine their success. With the Ray Skillman Auto Group, the most important indicator of whether or not we're successfully achieving our goals is when YOU are overwhelmed by our outstanding customer experience. It goes beyond satisfaction. We want you to be ecstatic with the way you were treated and impressed with how easy it was to get the best deal in Indiana. Your opinion is the one that matters with the Ray Skillman Auto Group. It's what drives our success.
---
Customers Come First
See What Our Customers Are Saying
---
---
Your Silverado 1500 Shopping Experience
We hope we've answered most of your questions about why you should consider the Ray Skillman Auto Group as your first choice when shopping for a new or pre-owned Mustang. If you are ready to learn more, please contact us through your preferred method of communication and ask us anything you'd like to know. If you're ready to schedule your test drive, please use the form below. With the Ray Skillman Auto Group, you control your shopping experience. We're here to help facilitate and to be your personal automotive experts.