GMC Terrain Plainfield Indiana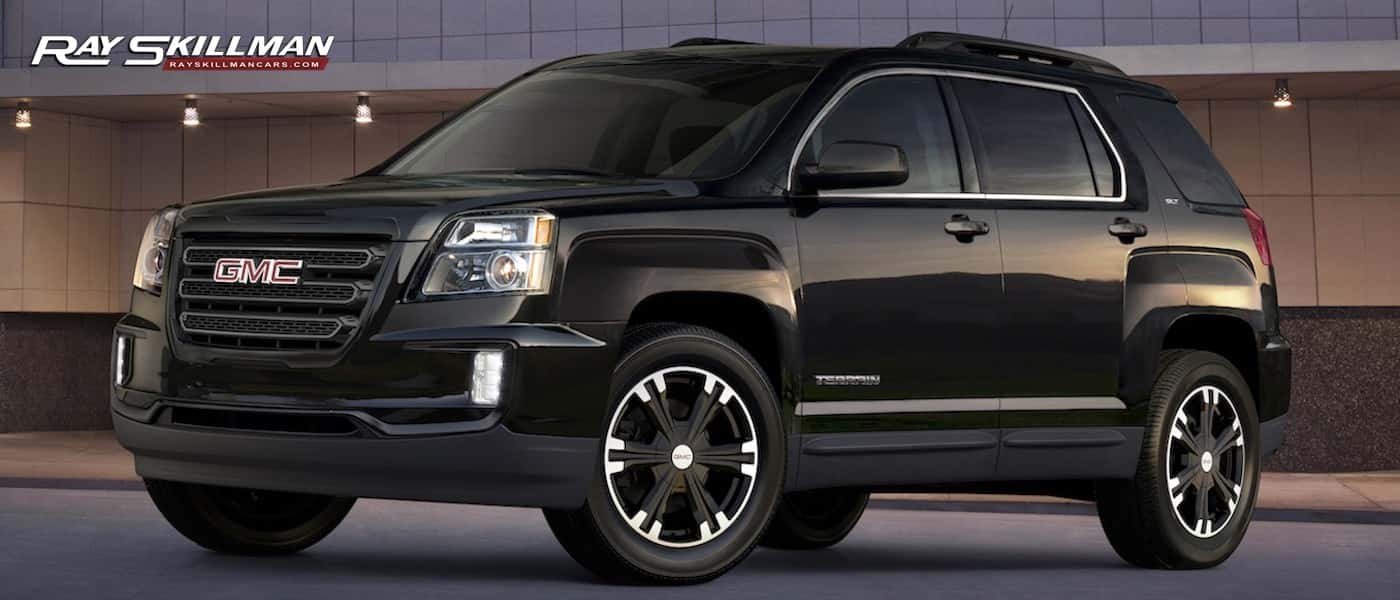 The Ray Skillman Auto Group
The All-New GMC Terrain – The All-Encompassing Small SUV
GMC hit a home run with the newest Terrain. This small SUV has some big things in store for you at the Ray Skillman Auto Group.
You could call the new GMC Terrain a triple threat. It's a fantastic blend of dynamic style, versatile utility, and surprising efficiency that's sure to impress. The Team at the Ray Skillman Auto Group is here to tell you all about it.
Head-Turning Style
You've seen it before. You know because like most of us, you probably stared a bit; possibly even turning your head around to get a longer look. That's the moment you think, "I have to get one of those!" Let's face it, a vehicle that looks this good, also feels really good to drive. You can almost hear the heads whipping around to catch a glimpse of this stunning SUV. The distinctive three-bar front grille definitely leaves a lasting impression, as well as the chrome-accented front and rear fascia. Stop into one of the Ray Skillman Auto Group and let your eyes wander all over the gorgeous GMC Terrain.
Comfort Matters
The interior of your new GMC Terrain is an embarrassment of riches where comfort and convenience are concerned. Sophistication abounds with premium materials and available features such as ambient lighting, leather-appointed seats, eight-way power seats in front, Pioneer premier audio, and so much more. Your Terrain also provides relief from the noisy world outside your window with advanced acoustics that keeps your ride remarkable quiet. Stop in and take the time to discover these amazing features, as well as everything else that the GMC Terrain has in store for you and yours.
Advanced Safety
As confident as you'll be riding around Plainfield in your new GMC Terrain, you still need certain assurances. After all, accidents do happen and you have no control over the other drivers out there. Your GMC Terrain is well equipped to keep you and your precious cargo safe and sound. Six standard airbags, including front-side impact and head curtains, go far in protecting you and yours in those worst-case scenarios.
Have you ever seen someone tearing through a parking lot as if the basic rules of driving do not apply there? Yeah, those folks can pop out of nowhere and ruin your day when you're simply easing out of your parking spot. No worries! Your GMC Terrain also features Slide Blind Zone Alert and Rear Cross-Traffic Alert, as well. This helps you maintain awareness of those who may not be aware of you.
Find The Perfect Terrain Model With The Ray Skillman Auto Group
At the Ray Skillman Auto Group, we aren't just big; we're better. I mean, we didn't become the biggest car dealer in Indy by throwing money at our stores. We did it by building a distinctive brand of personal customer service that keeps folks coming back to us time and again. So in essence, our customers are to thank for our many, many years of success. Let us welcome you to share in the love, and the unbeatable selection and value, also! Contact us with your questions and stop in to check out the incredible new GCM Terrain at your convenience. We can't wait to put you in the driver's seat.

New Terrain Plainfield
Ray Skillman has an incredible array of Terrain models IN STOCK. It's safe to say we have the perfect one for you. Find yours now, along with Indy's best value.

Pre-Owned Terrain Plainfield
With a vehicle as desirable as the Terrain, it's easy to maintain a fantastic selection of pre-owned vehicles.

Incentives and Rebates
The Ray Skillman discount is always above and beyond what GMC offers on new vehicles. Find out for yourself today.
Experience the Skillman Difference
Buying a vehicle is a special experience. We understand that this isn't something our customers do every day, which is why we treat every interaction with the respect that it deserves. Ray Skillman has served the Plainfield market for decades because we believe that the community and its people supersede any expectations set by a corporation. This is your community. This is our community. When you are shopping for a new or used Terrain, you expect the experience to match the promise, which is why we are open and transparent every step of the way. Below, you will find more information about the new Terrain. We hope that you'll contact us and allow us the opportunity to show you why buying from the Ray Skillman Auto Group is absolutely the best shopping decision you can make.
Ray Skillman GMC Terrain
There's more to a vehicle demonstration than picking out colors and taking a test drive. With the Ray Skillman Auto Group, we want you to know everything that's important to you in your next new car. The GMC Terrain is uniquely positioned in the Plainfield market to put you in the fast lane of life. The Terrain has the proper mixture of fun performance and incredible style that's appealing to Plainfield. Our team is here to make sure you're aware of every feature, tip, and maintenance best practice because we take pride in delivering the ultimate shopping experience for our customers. Watch this video and get a taste for how we assist our customers in making the best selection for them.
Attention to detail is important. You won't miss a thing when you shop with the Ray Skillman Auto Group.
---
We know you have many options when it comes to car dealers in the Indy area. Our hope is that you will give us the first opportunity to earn your business because of the tremendous experience, great pricing, diverse GMC selection, and our commitment to making your buying experience the most positive one you've ever had when shopping for a vehicle. We stand behind the ideal of delivering the type of respectful engagement that the people of Plainfield deserve. If you give us the first opportunity, you'll see why our customers come back time and time again.
---
WHY RAY SKILLMAN AUTO GROUP?
Some dealerships take pride in their sales numbers. Others point to their P&L statements to determine their success. With the Ray Skillman Auto Group, the most important indicator of whether or not we're successfully achieving our goals is when YOU are overwhelmed by our outstanding customer experience. It goes beyond satisfaction. We want you to be ecstatic with the way you were treated and impressed with how easy it was to get the best deal in Indiana. Your opinion is the one that matters with the Ray Skillman Auto Group. It's what drives our success.
---
Customers Come First
See What Our Customers Are Saying
---
---
Your Terrain Shopping Experience
We hope we've answered most of your questions about why you should consider the Ray Skillman Auto Group as your first choice when shopping for a new or pre-owned Mustang. If you are ready to learn more, please contact us through your preferred method of communication and ask us anything you'd like to know. If you're ready to schedule your test drive, please use the form below. With the Ray Skillman Auto Group, you control your shopping experience. We're here to help facilitate and to be your personal automotive experts.