Mitsubishi Outlander Sport Indianapolis IN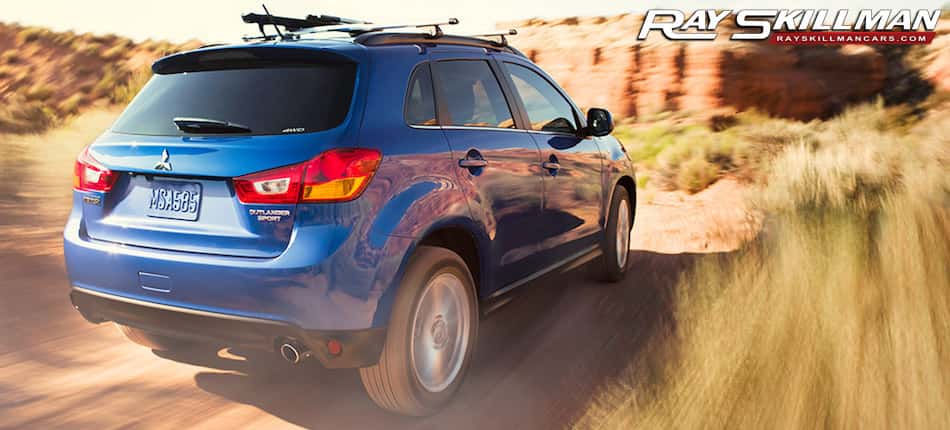 The Ray Skillman Auto Group
A Sporty SUV from Mitsubishi
Hanging around with the mainstream is not your taste. You prefer to blaze your own path. Mitsubishi has created the Outlander Sport with your trail-blazing spirit in mind. Visit Ray Skillman Auto Group near Indianapolis, IN to discover it, today! 
Enhancements are abounding with every element in this new Mitsubishi creation. Let our knowledgeable representatives at Ray Skillman Auto Group help you determine the features that fit your busy and adventurous life. We are excited to help you start the journey of a lifetime in your new Outlander Sport.
Comfort Behind the Wheel
Your Mitsubishi Outlander Sport has been given all the standard Outlander interior features (and so much more). It keeps you fully informed as to its status with a color LCD multi-information display, serving up a wide range of information like what the outside temperature is, the fuel level and average fuel consumption, your trip details, and more. The stunning available navigation system features a 7-inch HD touchscreen, 3D mapping, expanded Points of Interest, and Mapcare, and includes two annual map updates, gives aid for directions, and provides traffic updates. The HD Radio in your Outlander Sport offers hundreds of all-digital channels, in addition to standard AM/FM signals. The Rockford Fosgate Punch premium sound system in your Outlander Sport pumps out up to 710 watts through nine speakers, including a 10-inch dual-voice coil subwoofer with Punch Control-to deliver deep, rich bass and crystal-clear highs. It also encompasses the latest audio technology, such as Digital Signal Processing, DTS Neural Surround, PremiDIA-WIDE Surround, and Dolby Volume.
A Comfortable, Tech-Filled Interior
Your Outlander Sport has convenience features that make it completely intuitive. The Sport SE with FAST-Key system that lets you unlock, start, and drive away without taking your keys out. With the available heated front seats, the Outlander Sport ensures you're always warm and comfortable, no matter how cold it gets outside. The Sport features FUSE Bluetooth technology that seamlessly links with Bluetooth-enabled phones, USB drives, and most popular MP3 players. Simply tap a button and speak to place a call or play your music collection. The automatic climate control system adjusts fan speed, air source, and temperature to keep the cabin at your ideal comfort level, so you can concentrate on the road. Your height will never be a problem with your Sport's tilt/telescoping steering wheel.
Fall in Love with the Outlander Sport at Ray Skillman
Your Mitsubishi Outlander Sport has many enhancements inside and out, giving you your perfect driving experience. Navigating the endless new features will be easy with the help of caring and knowledgeable representatives at Ray Skillman Auto Group. We work tirelessly to ensure our website is up-to-date and loaded with a great selection of new and pre-owned vehicles. We are proud to be an automotive leader serving the Indianapolis, IN area. Use our website from the comfort of your own home to ask questions, browse our incredible selection and check our convenient hours. We will gladly help you conquer all of your automotive needs!

New Outlander Sport Indianapolis
Ray Skillman has lots of new Outlander Sport models IN STOCK. It's safe to say we have the perfect one for you. Find yours now, along with Indy's best value.

Pre-Owned Mitsubishi Indianapolis
With a vehicle as desirable as the Outlander Sport, it's easy to maintain a fantastic selection of pre-owned vehicles.

Incentives and Rebates
The Ray Skillman discount is always above and beyond what Mitsubishi offers on new vehicles. Find out for yourself today.
Experience the Skillman Difference
Buying a vehicle is a special experience. We understand that this isn't something our customers do every day, which is why we treat every interaction with the respect that it deserves. Ray Skillman has served the Indianapolis market for decades because we believe that the community and its people supersede any expectations set by a corporation. This is your community. This is our community. When you are shopping for a new or used Outlander Sport, you expect the experience to match the promise, which is why we are open and transparent every step of the way. Below, you will find more information about the new Outlander Sport. We hope that you'll contact us and allow us the opportunity to show you why buying from the Ray Skillman Auto Group is absolutely the best shopping decision you can make.
Ray Skillman Mitsubishi Outlander Sport
There's more to a vehicle demonstration than picking out colors and taking a test drive. With the Ray Skillman Auto Group, we want you to know everything that's important to you in your next new car. The Outlander Sport is uniquely positioned in the Indianapolis market to put you in the fast lane of life. This vehicle has the proper mixture of fun performance and incredible style that's appealing to Indianapolis. Our team is here to make sure you're aware of every feature, tip, and maintenance best practice because we take pride in delivering the ultimate shopping experience for our customers. Watch this video and get a taste for how we assist our customers in making the best selection for them.
Attention to detail is important. You won't miss a thing when you shop with the Ray Skillman Auto Group.
---
We know you have many options when it comes to car dealers in the Indy area. Our hope is that you will give us the first opportunity to earn your business because of the tremendous experience, great pricing, diverse Mitsubishi selection, and our commitment to making your buying experience the most positive one you've ever had when shopping for a vehicle. We stand behind the ideal of delivering the type of respectful engagement that the people of Indianapolis deserve. If you give us the first opportunity, you'll see why our customers come back time and time again.
---
WHY RAY SKILLMAN AUTO GROUP?
Some dealerships take pride in their sales numbers. Others point to their P&L statements to determine their success. With the Ray Skillman Auto Group, the most important indicator of whether or not we're successfully achieving our goals is when YOU are overwhelmed by our outstanding customer experience. It goes beyond satisfaction. We want you to be ecstatic with the way you were treated and impressed with how easy it was to get the best deal in Indiana. Your opinion is the one that matters with the Ray Skillman Auto Group. It's what drives our success.
---
Customers Come First
See What Our Customers Are Saying
---
---
Your Mitsubishi Shopping Experience
We hope we've answered most of your questions about why you should consider the Ray Skillman Auto Group as your first choice when shopping for a new or pre-owned Mitsubishi. If you are ready to learn more, please contact us through your preferred method of communication and ask us anything you'd like to know. If you're ready to schedule your test drive, please use the form below. With the Ray Skillman Auto Group, you control your shopping experience. We're here to help facilitate and to be your personal automotive experts.